Hello, Knitter's Planner friends!
Two years ago, my family and I took over the leadership of this community as the new owners and publishers of the amazing Knitter's Planner products. In this role, we have gotten to be a daily part of the lives of knitters around the globe, and we are so thankful for the love and support you've shown.
From day one, you welcomed us with open arms and encouragement that brought us to tears more than we should probably admit! Every email, every Facebook group post, and every Instagram comment was appreciated. Every sale was celebrated and accompanied by a little prayer that you would find joy in the product our team was sending to you.
Because you are so special to our family, we wanted to be the first to let the Knitter's Planner community know that after much discussion and more than a few tears, the Davis family has decided to shift our time and attention to other endeavors and place the Knitter's Planner brand in the hands of someone who will bring it into 2024 and beyond.
With peace and confidence for the future of this company, I am happy to pass the reins to my good friend and our very own Knitter's Planner graphic designer, Lindsie Bergevin. Lindsie has been working behind the scenes all along the way–from 2015 when our sister brand, the Quilter's Planner, was first conceived, up to our most recent 2023 issue and the digital PDF pages we offer in our online shop. She knows the ins and outs of this company like no other and shares in our vision to help knitters set aside time in their lives to do all the things they love.
We look forward to seeing how this community continues to grow and flourish under Lindsie's leadership. I (Lorinda) will continue to be a part of the community, using the awesome Knitter's Planner tools to bring clarity and direction to my knitting and everyday life.
Thank you again for the love and encouragement you've given us over the last two years. We are forever grateful.
Lorinda Davis and family
---
Hi there, Knitter's Planner friends!
If you've ever looked at the last page of your planner, you might recognize me from the list of KP team members. If you haven't made it back that far yet, let me introduce myself!
My name is Lindsie Bergevin. I live with my family of four in Boise, Idaho, where I work as a graphic designer for creative professionals. I spend my precious free time sewing, gardening, baking, and making all sorts of creative things with my family.
In my design work, I help clients find solutions for their businesses so they can continue doing the things they love. This type of mission is what I love about the Knitter's Planner!
When I first started working with Stephanie Palmer in 2015 to create the Quilter's Planner, followed soon after by the Knitter's Planner, and later with Lorinda when she took over in 2021, the ongoing mission of this business has always been to find ways to help our creative community make the time and space to do the things they love. I want you to know that I, too, share this vision, and am so grateful for the chance to continue creating these products.
I have very much enjoyed developing this planner over the years with these two amazing women. From first creating the Project Planning Pages to creating cover designs, and all of the parts and pieces in between, this project is one I look forward to designing every summer.
I have also admired Stephanie and Lorinda's foresight and wisdom, especially as they have navigated this business through an erratic economy, a worldwide pandemic, supply chain shortages, and ongoing printing industry changes.
Despite the changes we have seen in the last few years, I am committed to faithfully creating the planner you know and love. I have several exciting ideas for the planner and accessories that I think you will really love! My hope is that I can continue to offer more ways you can customize the planner to fit your creative needs.
But I need your help! Before I make any final decisions, I want to hear from you!
Will you take this 5-minute survey to offer your feedback?  Your opinion is extremely valuable to me and will help drive the decisions I make moving forward.
I cannot wait to get to know this amazing community even more, and I look forward to a fantastic and productive future!
As always, feel free to reach out to me directly at hello@knittersplanner.com.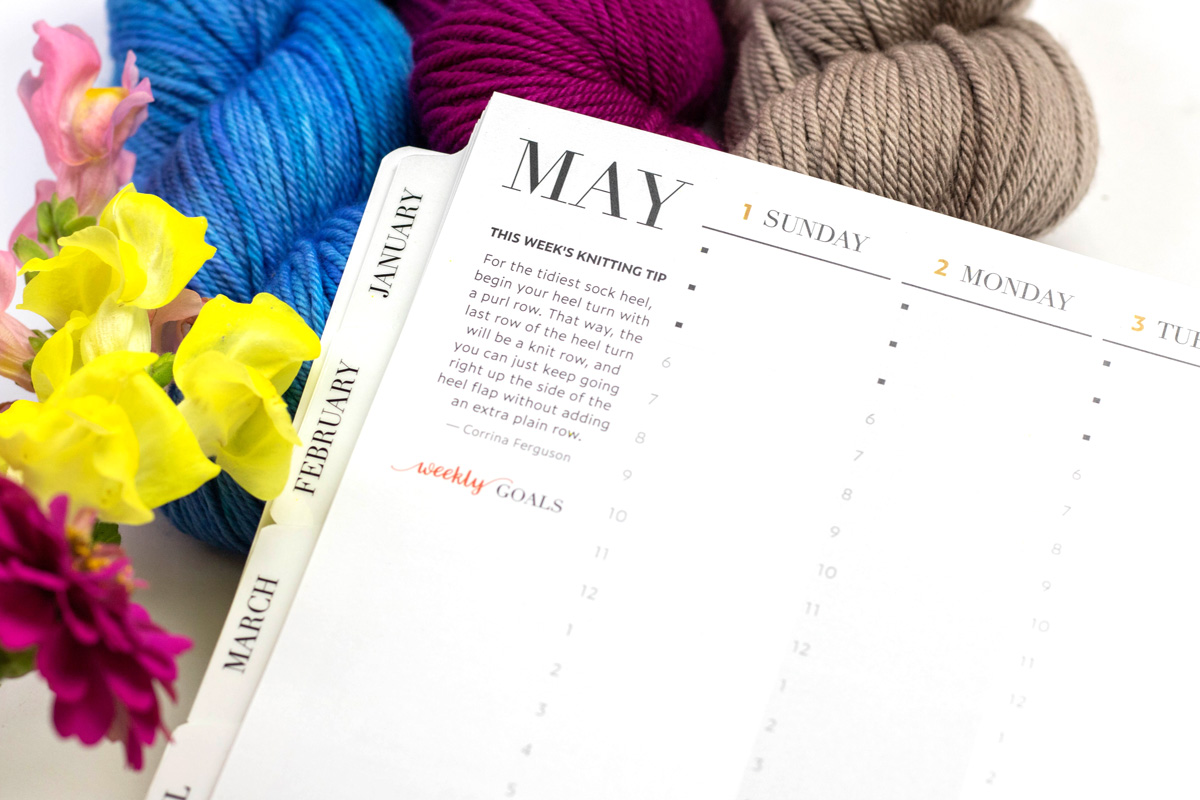 With customizable yearly planners, undated project planners, accessories, and digital products, you're sure to find everything you need to manage your day-to-day life and knitting all in one place!
You are a beautiful, unique soul, so why not make your planning tools as unique as you are?
Choose from 8 cover options for your Knitter's Planner or Design Book.
You can also customize your Knitter's Planner in other ways. Choose a Monday or Sunday calendar start day. Pick a weekly calendar layout that works best for you- we have 4 options to choose from!
Use our accessories and digital products to customize your books even further! Our Clip-ins help you track to-do lists, meals, shopping lists, and habits at a glance, and our Add-a-Page Clip-Ins let you add photos, patterns, and printouts!